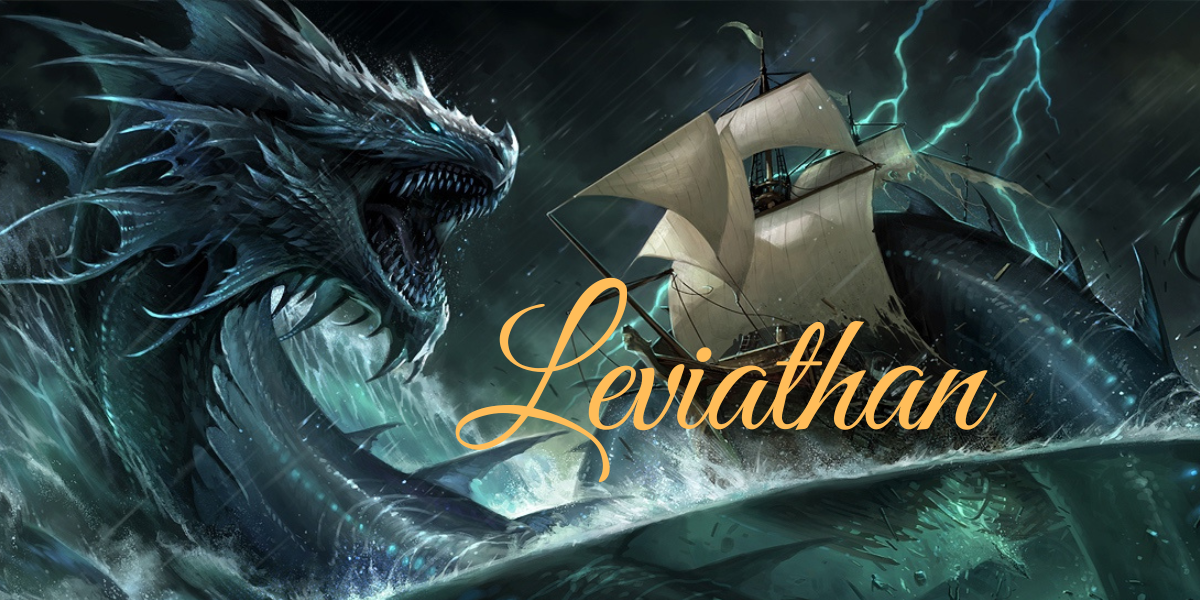 DESTROYING THE FORCE,  SPIRIT, AND STRENGTH OF LEVIATHAN, ON EARTH AS IN HEAVEN
 DR. LINDY S. DIFFENBAUGH, DD
It is vital that we recognize and discern the presence, force, and the diabolical, demonic water spirit known as Leviathan; beyond that we must know how Leviathan manifests in our lives, how he comes upon us, and ruthlessly intrudes into the lives that he targets and invades.
Beyond that, it is imperative that we comprehend the  destructive spiritual forces that lurk around us, in the surrounding territories where we work and reside; and in fact, it is imperative that we  partner with the powerful force of God's Angel Armies on the Earth, to see, discern, and recognize the forces of Hell that move and swarm around us day and night, throughout every night and day of our lives. 
When we face such a predator in our midst, it is vital that we stand in union with the Father, Son, and Holy Spirit, and that we hold a strong partnership with the powers of Heaven; thus with God's power within us and upon us, we will surely have the capacity to overtake Leviathan when he is near and/or upon us.
With  the spiritual force that we carry, we should learn how to strategically to release it, in order to break up the forces of Leviathan and his minions. Beyond that, this force is in union with the spiritual forces and strengths, that are filled with an all mighty and an unimaginable power pack of God's Heavenly grace and strength, on this Earth and in the clouds that move in the Heaven-lies.
The force that Heaven provides and carries a spiritual strength to overcome, overtake, and grab hold of this dark, hell-filled, diabolical, demonic creature; in fact this demonic force surely emanates from the threat of death, hell, and darkness, that ruthlessly lurks within this wicked, evil, and devilish water filled, force of demons from the darkest pits in the depths of hell itself!

     Leviathan Attacks Through Lies and        Miscommunications
It is through the release of lies, miscommunications, confusion, and suspicion into the hearts and minds all humanity on the Earth, that Leviathan takes control of the battles that Hell has Empowered him to release onto God's Warriors. With that in mind, it is imperative that God's warriors know how to resist the influence of this lie filled demonic force, that is released from the pit of Hell!
It is in fact, vital that God's warriors understand and know how to resist this demonic force of darkness. It is imperative that before they enter into the influence of the darkness of Leviathan, that they take the time to familiarize themselves with the knowledge of who Leviathan is and the danger that he releases onto God's people.
In fact, we must know how to hold the upper hand in the battle against this predator, and how to release a certain amount of strength to overcome and overpower the dark forces and diabolical plans that Leviathan has in mind, for the heirs of salvation that reside on this Earth!

God sees each battle that His warriors must engage, and He simultaneously sees every conflict that we will face and ultimately encounter in the future. Having said that, let's be encouraged by an ancient promise the Lord made through King Jehoshaphat when Judah was facing the possibility of an enemy attack: As He said to Judah, so shall the LORD say to us: "Do not be afraid nor dismayed because of this great multitude, for the battle is not yours, but God's" (2 Chronicles 20:15).
Biblical Script Is Filled With Life-Giving Promises For God's People
In uncertain times, God comes to our defense, as we stand against the minions that Hell has released against its enemies. In fact in the midst of an attack, the Apostle Paul demands, "Who shall bring a charge against God's elect? It is God who justifies . . .Who is he who condemns? It is Christ who died, and furthermore is also risen, who is even at the right hand of God, who also makes intercession for us, (Rom. 8:33-34).
In fact, Romans 8 speaks non-stop about how it's possible to be delivered from bondage and live victoriously in Christ. No wonder Paul said, "What then shall we say to these things? If God is for us, who can be against us?" (Rom. 8:31). In fact, we must be assured that we are in good hands: they are the very hands of Almighty of God, our strong and faithful  Creator, Savior, and King! His hands will surely hold us up and move us into victory with every predator that we might face!

Knowing that God is For Us, then why do we fret, worry, and fear our enemy, and why do we sometimes jump out of the Hands of the Lord and try to do our own thing "according to our own understanding" (Prov. 3:5-7)?
The sad fact is that too many of God's people "are destroyed for a lack of knowledge" (Hosea 4:6a). But God doesn't want His people to be destroyed because they lack spiritual knowledge!
God's desire is that we would receive an abundance of spiritual wisdom and knowledge, so that we will be equipped to fight the good fight of faith to advance His kingdom in the Earth, as in Heaven!

Yes, God wants to release godly wisdom to us-along with His divine counsel and strategies. Why is it imperative for Him to release these to His People? It is simply a vital deposit for our ultimate Victory over Death, Hell, and Darkness!
Who Is This "Serpent-Like" Creature?
With this above information in mind, when we read God's Word with a desire to grow in wisdom and understanding, we will eventually run into direct references regarding a serpent-like creature Known as "Leviathan". In fact, there is no doubt, because such a reference is in the Bible, God wanted to release a specific revelation about Leviathan.

I believe that such a reference is in the Bible to provide the reader with significant insight on just how evil Leviathan really is, and how this spirit attacks believers, who are unaware of his existence! This revelation sheds a bright light on some of the battles that could be coming against His warriors and/or their loved ones. That scripture would surely help the reader to discern the strategies of this particular enemy, much better than they could their own mental make-up.
Therefore, in this first writing on the subject, I have begun to share with you what I now know, and what I have been able to discover so far through God's faithfulness. It is my hope and prayer that this prophetic writing will Expose the Truth to the heart, mind, and soul of the reader!

LEVIATHAN IS MORE DIABOLICAL THAN AN OTHER ORDINARY "SEA MONSTER"
If we stick to skimming the surface, it seems like several scriptures speak of Leviathan as merely a powerful sea-monster type of creature. Some people even think that Leviathan is a dinosaur.
But I believe Leviathan is more than just a powerful sea-monster or a weird creature that's commercialized and popularized like "Ogopo go" or the Loch Nesse Monster.
Thus in the next Writing on Leviathan, I will lead you into a deeper "Vision" of Who and What Leviathan Really is and certainly…

What He IS Truly Capable Of Releasing Onto God's Warriors!
!!!Selah!!!